Meet Karrie
— Learn more about me, my background, my mission, and what gets me up in the morning to do this work that I love so much!
About Me
Welcome! I'm Karrie Porter, a destination wedding and portrait photographer based in Key West in the beautiful Florida Keys. Come on in, take a look around, and learn a little more about me and my team!
Heavy Metal
My earliest days in photography were in 1998 when my dad gave me an all-metal Mamiya film camera and several lenses.
It was solid metal, 100% manual, super heavy, and I hadn't the slightest clue what I was doing, but so began the long path that would lead here.

From Lab Coat to Photo Lab
When I began shooting for a local wedding studio in my hometown in 2001, it was really just as a fun part time job. I had no intentions at the time of becoming a wedding photographer...actually, I was headed to medical school!
By the time I was accepted, I had by then built up a decent local clientele, was having a great time, and couldn't imagine wearing a white coat the rest of my life.
I declined the offer, enrolled in a Photography program, and never looked back.
Reins and Manes
Originally from a rural area outside Tampa, FL, I grew up loving animals.
We had chickens, rabbits, and a goat that rode around on our pot-bellied pig's back (true story!). But my real love was always horses.
I practically grew up on the back of a horse, training in dressage on my Arabian gelding "JD's Regal King", and later my Quarter-Horse mare "Fanfaron", who I donated to a kids' riding program when I could not bring her to Key West.
I also took care of the weanlings at a local Thoroughbred farm. People often tell me I'm one of the most patient and persistent people they've ever met, qualities I attribute to this early work!
My Team
I would not be where I am today without my amazing team! From assisting at shoots, to editing, to social media, to all around second-brain-right-hand-man (and woman), these are the people who help me keep it all running smoothly!
POST-PRODUCTION COORDINATOR
The Journey of a Lifetime Starts With a Single Click
When I'm not shooting or taking care of clients, I host a show on Apple Podcasts called Key West Perspective. It's a personal passion project of mine, all about local life in Key West, where I interview interesting characters, community leaders, business owners, and basically anyone I want to talk to about what it's like to live and work in Key West.
Don't be surprised, though, to hear me introduce myself a little differently on the show. When I got married, I officially became "a Bond girl", marrying into probably the coolest last name a girl could ask for, and while I keep Porter as a way to honor my father who passed away when I was a child, locally I'm known with both last names, and it's why you'll hear Karrie "Bond" greet you when you tune in!
If you care to have a listen, you can find it here:
Apple Podcasts • Spotify • Google Play
Behind the Scenes
I know you have lots of options when choosing your photographer, and it's important to me that you choose the right person.
If that's with me, great! If not, that's okay too.
There are some photographers in destination cities like Key West who like to see how many they can cram into their schedule, and they wear this number like a badge of honor.
But I'm in the opposite camp.
I would rather brag about things like the stories I remember, the people I met, or the details I saw.
If you're looking more for the type of photographer who will clock in, check off your pre-written list, and clock out, then we might not be the best fit...not because I can't do that - I definitely can - but because I feel I can make a greater impact shooting while inspired.
I love working with clients who are excited about photos, who look forward to what we will create, and who aren't phased if I stop the car at an unplanned spot and ask you to step into a corn field (or sea wall, or hilltop, or tree branch...fill in the blank).
If you enjoy looking back on a photo and bringing to memory why it was special;
if you enjoy the surprise element of seeing the same thing presented in new ways;
or, you simply don't want the same everyday photos that every other Key West wedding has, then we are already off to a great start!
The Right Ratio
For my more analytical couples, you'll appreciate this! Photography is just as much a science as it is an art. I know this because an image might be the most technically-correct photograph you've ever seen, but still not inspire you. Similarly, when hiring a photographer, it takes more than a beautiful portfolio and an artistic eye to be the right photographer for you. What attributes do you appreciate the most?
My Driving Force
Everybody has their "why" - their reason they jump up out of bed every morning and put 110% into what they do. I'm no different, and I would love to share my reasons with you.
Yeah yeah...every parent thinks their child is awesome, but seriously, how did I get so lucky? She's funny, kind, smart, and teaches me every day how to be better at life.
When your first three dates include talking for hours in a Jeep, riding bikes down Bayshore Boulevard, and washing your trucks (even though your 4x4 is bigger than his!), you know you've got a winner. 16 years later, I'm still pinching myself.
Even though I live in paradise, there are times I want to breathe cool mountain air, walk barefoot through the grass, and hike through the woods. My grandparents' farmhouse in upstate New York is where the family convenes every summer to reconnect and recharge.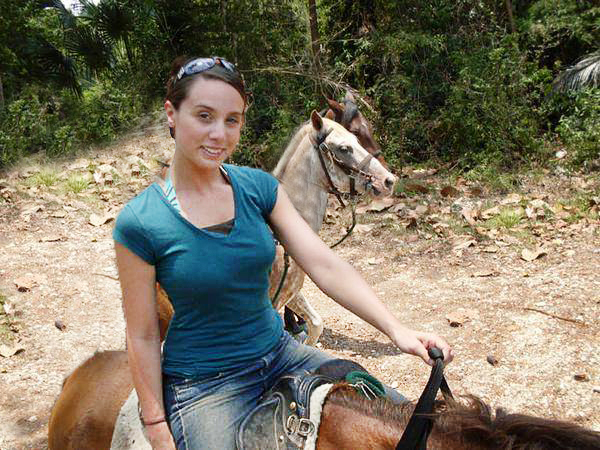 Since we don't have horses in Key West, I have to get my riding "fix" in other ways. Even if you're not a "horse person", you know what it's like to have something you do that's JUST for you.
So I am working up to the point at which I can spend my off-season riding everywhere in the world.
You know the saying "it takes a village"? While my fellow photographers are my competition, they're also some of my best friends. I know I can share anything and get either a swift kick in the ***, or a healthy dose of motivation. Either way, they inspire me to be better, not just for myself, but so I can also be there for them as well.
I look forward to meeting you and learning more about you as well.
LET'S CONNECT!